Instagram has been growing faster than any other social media channel since it was launched first in 2010. This popular photo and video sharing platform has become a huge opportunity for all kinds of brands to grow their business and gain more followers online.
With over a billion users on the platform and 500 million daily active users, Instagram has beaten other social media platforms in engaging and retaining an active user base.
A platform as engaging as Instagram, every brand should use it to its full potential. That is why, now most brands and companies are quickly making instagram their active media platform to establish their brand, increase credibility and ultimately sell their products.
It is understandable that every brand wants to get more followers instantly and therefore, many even buy bot followers. But as a marketer, I can assure you that won't last. Instead you should focus on getting organic traction for your account by posting content consistently. And to boost your account and increase your follower base- here are 5 smart ways you can organically grow your instagram followers.
1. Giveaways / Contests
Giveaways and contests are huge in the Instagram world and brands get a lot of engagement every time they run a contest. The fact is people love free stuff and wouldn't mind engaging with your content and sharing it or putting it up on their story in return for a chance to win a hamper or a free product.
Your job as a content creator is to use these tactics in the right way to make people engage with your brand. Use simple sharing and tagging strategies to help your followers engage with the contests and giveaway campaigns easily.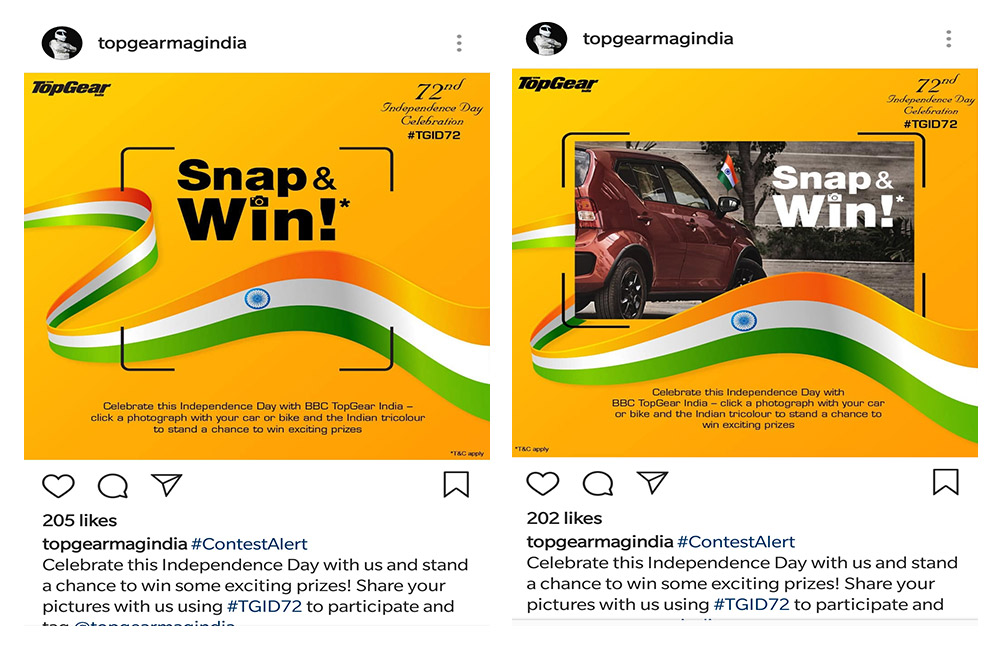 Here's an example of TopGear india running a contest for Independence Day. The post itself got 200+ organic engagement where they asked followers to share a picture using their dedicated hashtags to participate in the contest. The simpler you make the rules for your contests and giveaways, the more your followers will engage with it.
2. Influencer Outreach
Social media influencers have a huge follower base and as the name suggests- influence their audience through their content. Therefore, big brands and labels take the help of these influencers to get noticed and leave an impact on their audience. This is called influencer marketing or outreach.
A simple way to start influencer marketing is to reach out to influencers in your niche and collaborate with them to promote your product, either through paid promotions or a barter system.
This is important for your brand because ultimately they have what you need- an audience that voluntarily follows them and engages with their content which can then be leveraged to showcase your products and help you get noticed.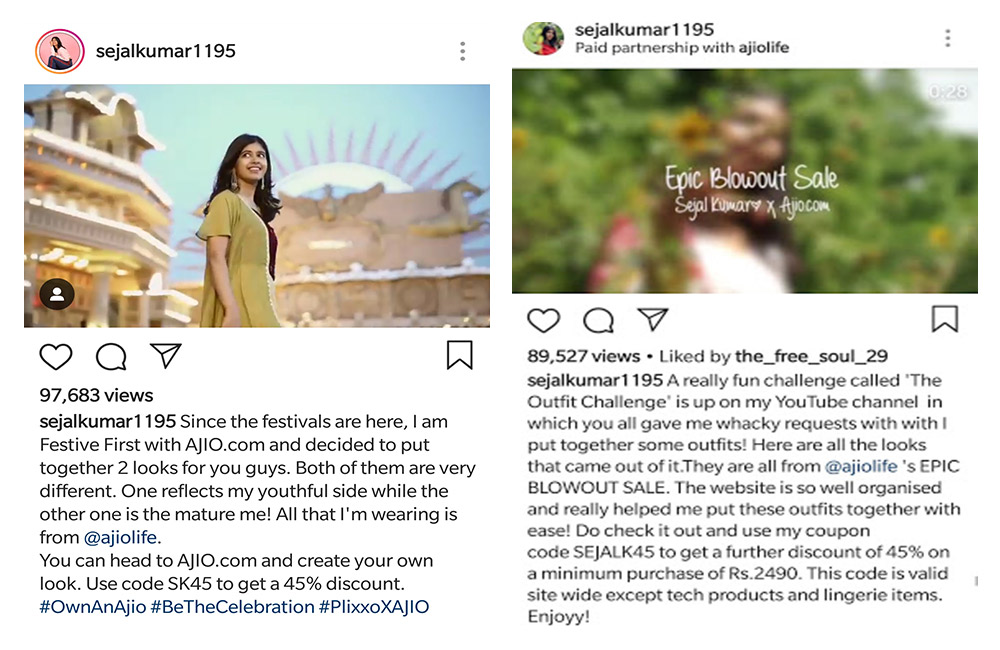 A great example is AJIO. The digital fashion company collaborated with one of India's most famous fashion and lifestyle youtuber, Sejal Kumar to promote their Blowout sale. The video alone got over 80K views and hundreds of comments. They also collaborate with other influencers regularly to promote their upcoming products and sales.
Influencer marketing has become one of the most effective forms of marketing on instagram solely because it never fails to give good engagement.
3. Build On The Right Hashtag
The hashtag game has completely changed over the past year. Ever since Instagram changed its algorithm to essentially lessen the reach of spam accounts, most business accounts have suffered in some way.
The reason being, hashtags initially brought a lot of engagement, reach and followers but this was also increasing spammy content, so Instagram put an end to it all. But you can still use hashtags to build engagement and get more eyes on your content if you're using correct hashtag.
Here are some tips to get the right hashtag-
Niche hashtags– Even before posting, you should research about the hashtags in your niche. It doesn't make sense if you're into the real estate industry and are using hashtags like "love" "tbt" or "instagood". So the first thing is to pick out various hashtags in your industry which have a different set of engagement ranging from 10K to 100K and so on.
Small v/s big hashtags– Once you've listed all hashtags in your niche, segment them according to the engagement. Keep in mind that you should use small as well as big hashtags to get more engagement. Bigger hashtags will obviously get you more eyes but it is easier to rank high on smaller hashtags that have less engagement. So use both small and big hashtags in your post.
Stop being spammy– Instagram's algorithm is modified to take down spam accounts. So whatever you do, don't be spammy while using the hashtags. One of the ways is to switch between hashtags. Don't use the same 30 hashtags in every single post as this might come across as spammy. Also avoid hashtags like #love #happy #tbt at all since they are extremely populated with over 1 billion engagement and also come across as spammy.
Use a dedicated hashtag–  If you're a business or an influencer, you should create specific hashtags that resonates with your brand. A very simple example is of the viral challenges we see. All these challenges use dedicated hashtags that makes it easier for people to view the challenge or post easily and also help it trend.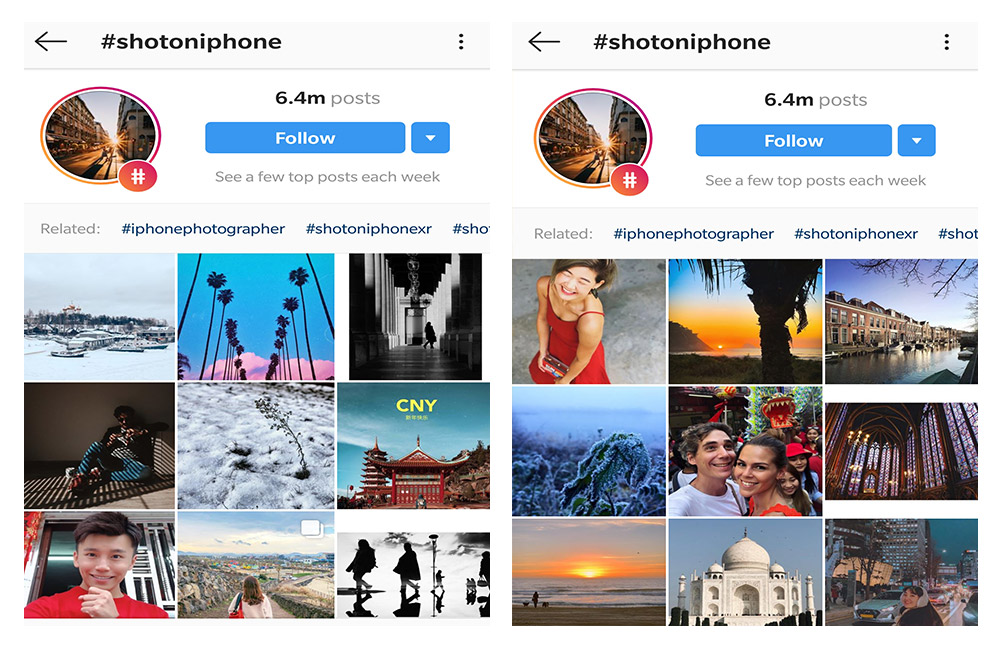 One of the best examples for dedicated hashtags is Apple. Apple came up with a creative hashtag #shotoniphone which the company used to promote amazing pictures using their new IPhone and very soon the hashtag went viral, with over 6.4m posts worldwide.
4. Be Consistent On Instagram
Posting content on instagram doesn't guarantee you engagement and followers. If you post once or twice in a week your engagement and followers will remain stagnant.
The truth is, no matter which social media platform you are on, to be relevant you have to be consistent. Posting consistently, every day or even two-three times a day will ensure that you are at the top of your follower's feed. The more you post, the more visibility and engagement you get.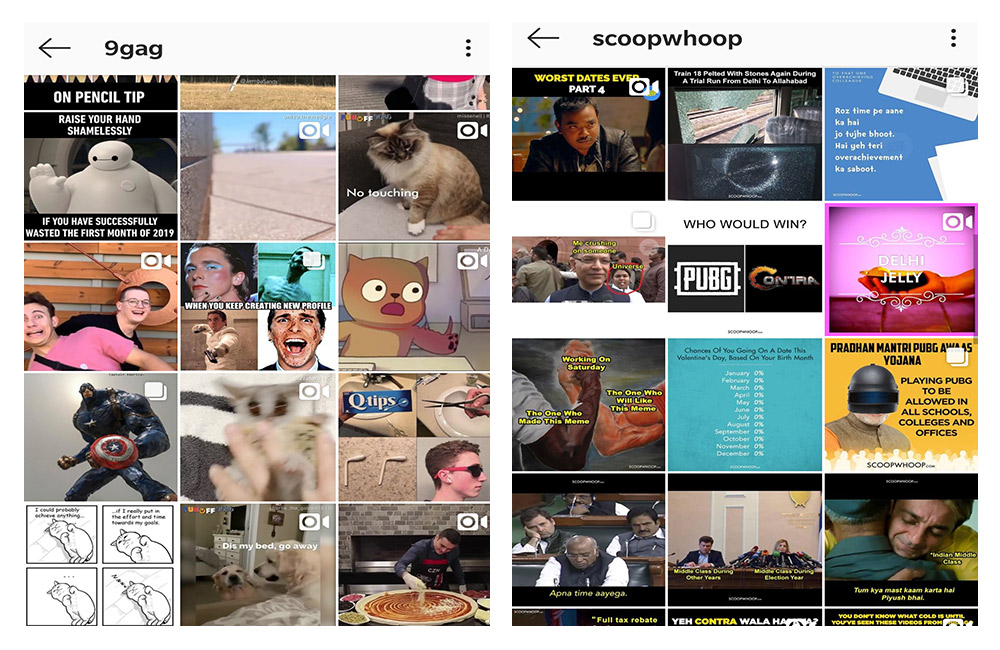 Meme pages like 9gag, scoopwhoop, or AIB post more than 2-3 times a day. This helps them stay on top of the user's timeline all the time and get more engagement.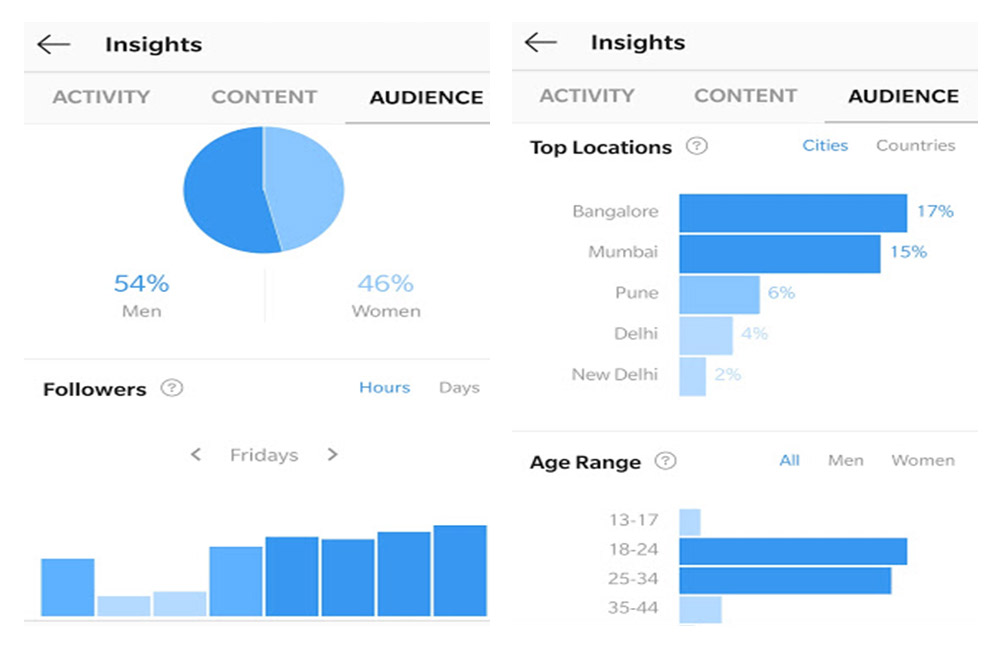 A good idea is to strategize the content calendar for an entire week beforehand and schedule posts at a specific time everyday when your followers are most active. You can easily get these insights by converting your profile into a business account and use it to understand your audience better.
5. Get Social
Practicing and implementing the above steps will boost your follower count but the most important thing to remember is, people like to engage more with accounts that are human. Nobody wants to follow a bot account.
So even if you're scheduling posts and using hashtags, you'll get real engagement when you actually interact with your followers. Message them personally, thank them for their comments and reply to their queries. Not just that, like and comment on your follower's accounts to get the conversation started.
When you engage with your audience, you're building trust and they start believing in you and your content. This makes your fans loyal to you in the long run.
Influencers and bloggers always interact with their fans on instagram through posts and stories because a growing fan base is what keep them relevant on social media. Even big brands answer queries and solve problems through instagram and other social media platform.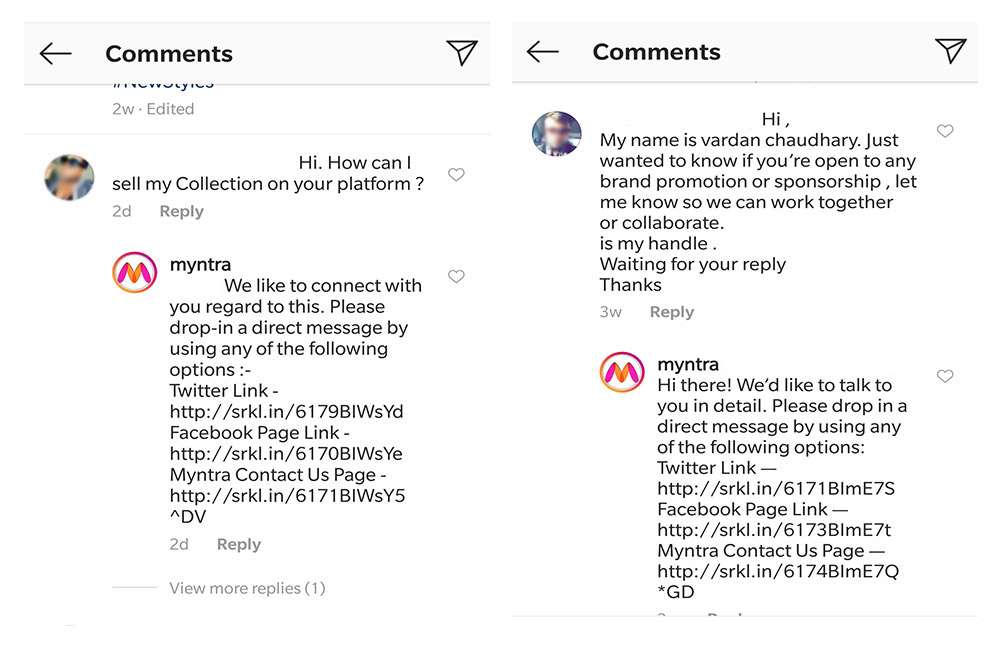 In fact, fashion e-commerce company like Myntra addresses issues and queries through social media and give swift solutions so as to not bring down their credibility.
Now that you understand the platform better, you can immediately start practicing these tips to increase your followers and engagement as a whole. Also since you are going to be heavily active on the platform explore as much of instagram as you can. Don't forget instagram stories and the newly launched IGTV since it has got good potential and can land you on the explore page easily.
So don't wait any longer, go explore instagram and try all new features. The more you are active the more traction you will get.
Happy marketing!