Here is how How to setup google my business page. Creating Google My Business Profile is an excellent method to boost your visibility across all of Google's services. Google My Business is a free Google business listing. Optimizing the Google My Business page allows us to have more potential consumers in the local market and the place where we provide services. 
In this blog, we will teach the business owner how to set up the Google My Business Page for your Business.
1. Sign Up/Sign in to Google Business Profile Manager
You'll be instantly signed into Google Business Profile Manager if you already have a Google account. Otherwise, sign in using your Google account credentials or create a new one.
2. Add The Business Name
Enter the name of your company. Click "Add" your business to Google if it does not display in the drop-down option. Then click "Next" after selecting the right category for your business.

3. Set Up Your Location
Suppose you have a physical location that clients may visit, select Yes. Then add your business's address. It's also possible that you'll be asked to mark the location on a map. You can select your service zones if your company does not have a physical location where clients can visit but provide in-person services or delivery. Then, on the next screen, press the Next button.
Google will urge you to specify your location if you don't offer a physical address. After picking an item from the drop-down menu, click Next.

4. Fill up Contact Details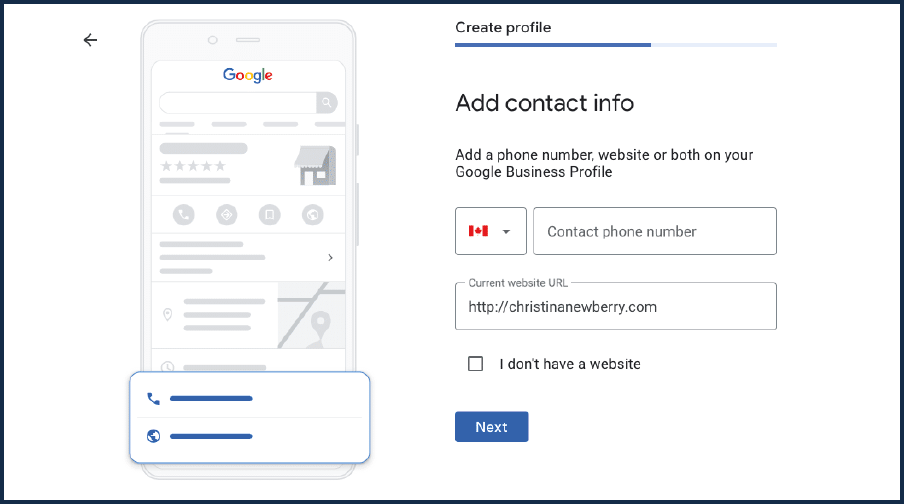 Customers will be able to contact you if you include your business phone number and website URL. You don't have to add a phone number if you don't want to be contacted by phone. 
Click Next once you've finished entering your information.
5. Verification of the Business Physical Location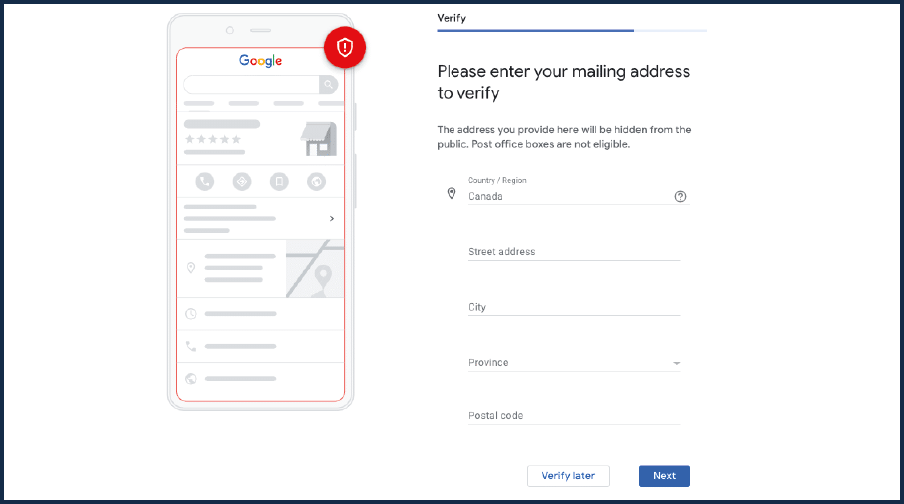 Enter your actual physical address. This information is solely used to validate your business and is not shared with the public or posted on your Google Business Profile.
Click Next after entering your address. 

You'll be given the options for validating your account that apply to you. 

To verify their location, physical businesses will receive a postcard in the mail. 

An email address can be used to verify service-area firms.
Enter your five-digit code on the next screen (or go to https://business.google.com/) and click Verify or Verify business.
You will see a confirmation screen indicating that you've been authenticated. Click Next on that screen.

6. Customise Your Profile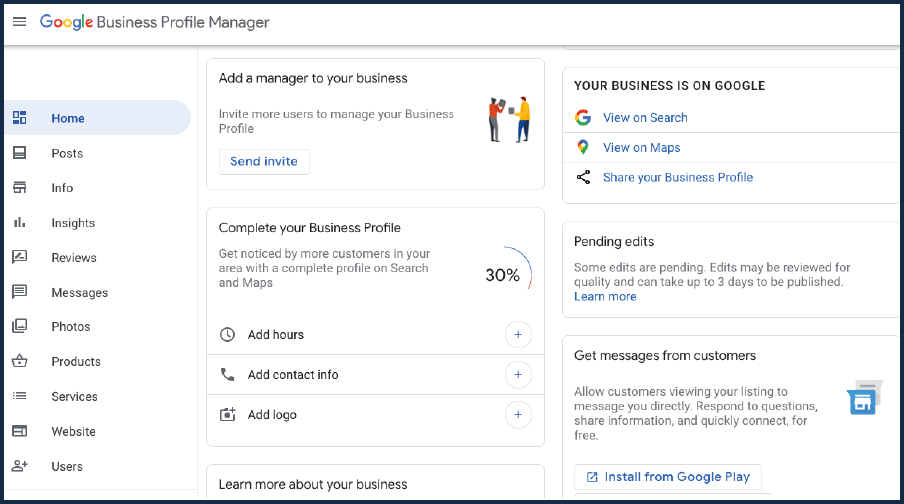 Fill in your business hours, message options, company description, and images. (In the next post, we'll discuss ways to improve your profile information in more detail.) 
Click Continue when you're ready. You've arrived at the dashboard of the Business Profile Manager. You may edit your company's profile, examine insights, manage reviews and communications, and generate Google advertising from this page.
Contact Our Expert today for your Digital Marketing Audit for your business.
Visit Our Social Media Pages for more updates – https://www.facebook.com/bizinventive/